Imagine this situation: Your partner comes home after a long and tiring day at work. They walk through the door, drop their things on the table, and turn around to find a gorgeous bouquet of fresh, dewy flowers waiting for them.

Love and Laughter has the ability to make your significant other[...]
Add To Cart
Add 8 Balloons for $42.95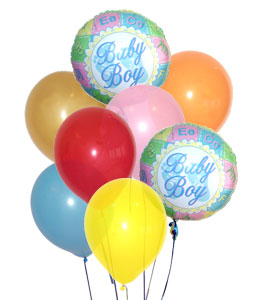 Imagine this situation: Your partner comes home after a long and tiring day at work. They walk through the door, drop their things on the table, and turn around to find a gorgeous bouquet of fresh, dewy flowers waiting for them.

Love and Laughter has the ability to make your significant other[...]
Imagine this situation: Your partner comes home after a long and tiring day at work. They walk through the door, drop their things on the table, and turn around to find a gorgeous bouquet of fresh, dewy flowers waiting for them.

Love and Laughter has the ability to make your significant other[...]
Imagine this situation: Your partner comes home after a long and tiring day at work. They walk through the door, drop their things on the table, and turn around to find a gorgeous bouquet of fresh, dewy flowers waiting for them.

Love and Laughter has the ability to make your significant other feel valued and appreciated. Just one whiff of this vibrant bouquet, featuring shades of pink and purple, can help all their worries fade away and allow them to live in the present moment.

Simply inhaling the delightful fragrances of Love and Laughter requires you to clear your mind of clutter and focus on the beautiful, colorful petals in front of you. By doing so, you're already subconsciously appreciating the present.

And that's just the beginning of what a Love and Laughter bouquet can do. Keep reading for details about the specific flowers in this stunning arrangement. Every flower is carefully placed to create a gorgeous combination of roses and daisies.

Sensational lavender roses, delicate daisy spray chrysanthemums, and small purple carnations that perfectly border the larger roses make for an excellent arrangement of flowers to celebrate your love with your significant other.

The bouquet is also adorned with matsumoto asters that resemble tiny sunflowers, chirping at the beauty of your love. The ever-beautiful wax flowers in pale pink symbolize a color that may not be dark and rich anymore, but is still breathtaking to look at - just like your relationship.

Love and Laughter truly embodies a loving, happy relationship that should be celebrated every day. It is the perfect bouquet to represent your personal style and taste.

You can order Love and Laughter from our local florists nationwide, all from the comfort of your own home for same-day delivery.
Item No. T50-3A
Price: $94.95